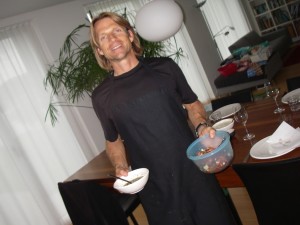 Well, 1/4 of 2013 is now in the history books and spring is here. Along with house spring cleaning, now is a great time to clean out the fridge/pantry and start stocking things that will help fuel/hydrate you during your workouts. Here are few simple things you can try implementing as more daylight typically means more activity. From a training/racing perspective, if you thinking of trying something new, now would be the time, not the week before a race or race day itself. For those that like calories in the liquid form, make sure to keep a supply of your favorite beverages chilling in the fridge as the days warm up and have plenty of bottles, cool packs, ice chests, etc... to transport. Keep plenty of healthy snacks around at home, work and a emergency energy bar or two in the car. Frozen fruit in the freezer is great for adding to smoothies. Try cooking in bulk so you have leftovers for 1 or 2 more meals.
Here is a recipe for some "Powerballs" I created about a month ago that I really like, travels well and tastes good.
Ingredients
Pitted dates
Currants
Coconut Oil
Cashew Butter or any Nut Butter you like
Coconut flakes
Chop up 16-18 pitted dates & 3 Tbsp of currants. Next mix in 1 Tbsp coconut oil and 4 Tbsp of Cashew butter until all ingredients are mixed. Then just form the mix into small balls, roll in some coconut flakes and chill. Tip on rolling the balls, get your finger tips just a little wet with some water.
Yield is 10-12.
Make it a great week! Coach Eric