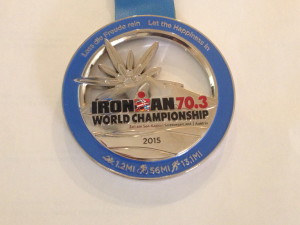 What an amazing 2 weeks in Europe!  Triathlon and sport in general has given me the opportunity to see some amazing places and Zell am See, Austria did not disappoint.  
Departure, August 24th
Arrived at airport with plenty of time to spare.  Note: Very good idea when traveling with bike as things can take longer than expected.  Well, the bike actually got us into the over sized check in area at DIA so we breezed right through.  TSA security moved pretty well given all the Monday end of summer travelers and we were on our way (late departure) to Dulles for our connecting flight to Munich.  Arriving at Dulles, we had to hustle through the terminal for connecting flight and they were already boarding the plane when we got to the gate.  I had a little surprise for Sharon in store as we went right to the priority boarding area, bypassing the lines and onto the plane to our first class seats.  I was stoked that I was able to pull this off and she was indeed surprised. Note: if you are going to splurge on a leg of the trip, do it on the overnight part/longer leg.  It really helps to have a little more leg room and I believe helped with the jet lag.  
Arrival and Race week Aug 25th - Aug 30th
We landed in Munich shortly before 8am and the bags came off the plane pretty fast.  There were several others in the terminal heading to Zell am See as evident by all the bike boxes in oversize luggage.  Rolling through the airport to Hertz rental car for our diesel 6 speed Peugeot Wagon that we would call home for the next 11 days.  When traveling with bike box always good to have a wagon as it makes loading much easier.  We hit the road for the drive to Zell am See and my co-pilot did a great job getting us on the Autobahn.  About 90 minutes into our travels we pulled into a village near Kitzbuel for a quick bite to eat before finishing the drive.  The weather today was rainy for the most part, but this would be our only day of this as the rest of our time in Zell we were treated to sunny, warm days.  We picked the keys up to our apartment a little after 3pm in Zell and then a short 15 minute drive to Kaprun to get settled.  We had a great little flat that opened up to a small patio overlooking the Austrian Alps which quickly got us into vacation mode.  I started working on getting the bike assembled for a ride the following day and after a quick visit to the local "Billa" market for supplies and lite dinner it was time for bed.
The plan for Wednesday was to ride about 2/3's of the bike course at Noon with other athletes to see the climb and descent that awaited.  Well, I woke up after 9 good hours of sleep around 6:30 am and should have gotten up, but decided to doze a bit.  Next thing I know it is 11:30!!!  No panic, plan B.  Sharon would drive me ahead of the ride and drop me off then meet me at IM Village after the ride.  Quick change, bike loaded and off we went to catch the group. Timing was great as we caught them just before the big climb.  Course recon is essential and seeing the climb and descent helped me dial in my power for the climb and see the caution I needed to use on the initial descent.  Rolling back through the valley to Zell am See, my legs felt good and the jet lag was leaving the body more.  
I met Sharon at IM Village while getting some final adjustments made to my bike.  She had a little mishap while looking for parking and ended up with flat front tire.  One of the security guards at the village was kind enough to assist me in changing it.  After some discussion, we realized we would need to get a new full size tire installed given all the miles left to drive to Italy.  We found a tire shop that ordered us a tire and got it installed the following day.  
Thursday was our day at the famous Kaprun Spa and it did not disappoint.  After short morning swim and run we headed off the the spa for a full day of relaxation and food.  Starting with brunch, some warm pools to relax in, then Sharon headed off for her massage and I took a little nap before mine.  Then more relaxing on comfy lounge chairs, more food, drinking lots of water and just like that 10 hours passed as we were winding down on the panoramic pool on the upper level looking over the valley at sunset.
Friday and Saturday -
Both days were very peaceful.  Morning workouts to keep the body sharp and catching up on some work details before going offline a couple days.  Friday afternoon we took care of race registration before the welcome banquet that evening.  Saturday we took the tram up to the top of Kitzsteinhorn for a cappuccino and apple strudel and took in the views of the Austrian Alps from 3000m.
 All that remained for the to do list was bike check in and that went very quick.  A lite meal back at the apartment and some reading before lights out at 10pm