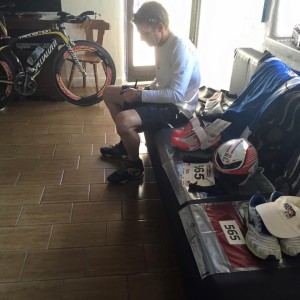 Race Day!
One thing nice about this race was the later start.  The Pro's went off at 10:30 and my 50-54 age group wave went off at 11:31.  So, no early  wake up and restless night of sleep which led to a very relaxed morning before driving down to the train station and the short trip to the Transition area.  On race days, what works best for me is liquid calories only  for breakfast and the same during the race.  Start your day with what what works for you.
Arriving at transition, things were very calm and I made my way to my bike to pump up my tires.  Athletes in general seemed to be sharing my same calmness as we made final preparations.  When I was giving my cranks a spin to check brakes and calibrate power meter one of the guys capturing video clips for Ironman shot a few seconds of video.  Did not think much of it as they capture all kinds of moments during the day.  Fast forward to the awards dinner and my 3 second clip made the video for the night.  Cool!  After giving the bike the final check, loading bottles, securing shoes to pedals and walking through transition one more time to know my entrance/exits, I headed over to find some water and shade on the grass to relax.
About 45 minutes before my wave, I got up and gave the legs and easy 5-6 min jog on the grass mixing in a few drills to loosen up.  Off to bag drop and now all that remained was wet suit cap and goggles.  We had plenty of room to warm up in the lake next to the swim start and I took full advantage of this. 15 minutes in the water mixing strokes and doing some buildups as one by one the waves went off.  I cued up with my group about 5 minutes before they put us in the water to wait for start.  Made my way to the front right and made peace with those around me as we waited for the cannon to go off.
Swim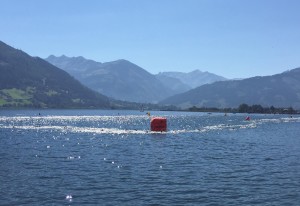 BOOM.. and away we go.  I was fortunate to find clean water pretty quickly after going through a couple swimmers who should not have started near the front.  Plus starting front right I was opposite the buoy line and had a clean shot to the first turn buoy 900M out.  I would have to say it was the easiest feeling swim I have had in a while at a 1/2 IM.  Maybe more air than back home, maybe the tapered feeling, but those 29 minutes just flew on by and that was that.  Quick exit, peeling wet suit down to my waist after grabbing T1 bag and into changing tent.  Helmet on, swim items stuffed into bag and out we go.  Grabbed a quick sip of water to rinse the mouth out, (old habits from Hawaii and getting the salty taste out) and off and running to the bike.  Sharon was counting gold caps coming out of the water and had me right around 30th in age so very pleased with that.  Tons of cheering people as we exited T1 to mount are bikes.  Some guy almost took me out from the start coming by me on the right side leaving T1 as I was getting into my shoes.
Bike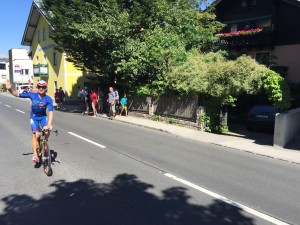 What a spectacular course we had to ride.  The first 5-6K featured several turns, a small, narrow bridge to cross so this actually was a good thing in my opinion as it helped keep all the excitement in check and just settle into my pace once the roads opened up.  This section gently rolled along down the valley and was more down than up so speed was good. and the first 30 minutes went fast at just under 26mph.  Monitoring my power I knew the 8 mile climb was up next and needed to get on track with the liquid nutrition (INFINIT).  The climb I feel I nailed it!  Starting conservatively to settle in climbing rhythm paid off.  After the initial kick it settled back down into the 3-5% range so I was able to keep effort steady and started passing people.  Training with power is so helpful, particularly when climbing and I just kept motoring along past people that had started too fast.  The climb continued through a ski station another 3/4 of a mile, then a slight left turn onto the final mile which was between 10-14%.  Now here is where the pacing really paid off as I felt strong this last bit.  Don't get me wrong, I was working, power avg for those 9 minutes was 10 Watts above FTP, but that %grade, no way to avoid that.  Cresting the climb I felt really good and grabbed a big drink as there was no way I was letting go of the handlebars those last 9 minutes.  The fans were great on this section of the ride, kind of like a little Tour de France feeling.  After a quick stretch break for the lower back and another couple gulps of fluid it was time to pay attention.  The initial descent was steep 15% and  had some hairpin turns included.  A few guys flew past me and that was just fine with me.  They even padded a couple of corners in case riders came in to hot as going over the guard rail would have had some serious consequences.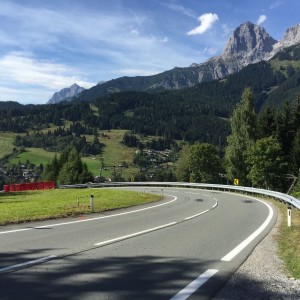 Once down the initial descent, we flew past a couple more ski stations and back into the valley above Zell am See, then back through Zell am See to more cheering fans, a quick wave to Sharon and on to the last 40 minutes of the course.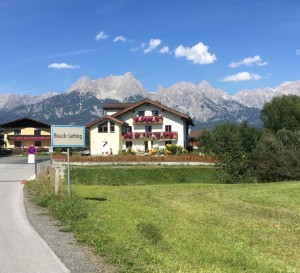 More rolling, more hydration and continued monitoring of power output.  For the power people Total ride: IF .82 and VI 1.09  very pleased given the profile and sustained climb/descent. Climb numbers 40 minutes avg power 223 IF .96, VI 1.01
Run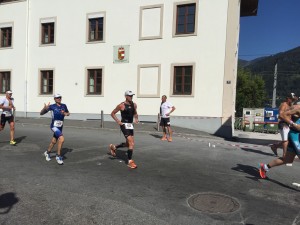 Coming out of T2 I had my legs right away, which told me I paced the bike properly.  The first mile went right along the lake before turning into the "Altstadt" old town part of Zell am See for the first of our 2 loops. Old cobbled roads, 1000's of cheering spectators along this section before heading back to the lake for the out and back run.  A gradual up/down/up at the turn around and already headed back on lap 1.  After the first 2 miles I had settled into 7:30-7:40 miles and they just kept ticking over, but I knew the effort would go up on the second lap to hold the same pace and it did.  Ice in the cap at aid stations and started hitting the Coke towards the end of the first lap alternating that with water on lap #2. Pacing once again paid off as lots of runners were coming back to me on the way back out.  I knew once we reached the turn that is was a good 5K to the finish and now was the time to dig in and just leave it all out there.  I continued to pass people on the return and heading into the last 400 meters or so the crowd was just fantastic. Crossing finishing line was a mixture of happiness and sadness oddly enough. Happiness in executing my race plan and knowing I left it all on the race course.  Sadness that I had to stop.  That may sound odd, but I was honestly having a great time racing to my limit and reflecting back a bit more, probably the most relaxed and present I have ever been on a race day.
Race finish link:
https://www.facebook.com/sharonraecook/videos/10205372206926934/
Final thoughts - 2015 marks 30 years in the sport of triathlon, but when I think about it I have been doing this my whole life.  As a kid, I was fortunate to grow up with swimming pools around and I was always playing in the water.  No swim teams, just sharks and minnows, marco polo and match stick a cool game my sister and friends came up with.  I was always riding around on my bike. To school, to a friends house and to town to catch the bus to the movie theater.  Running as a kid you just ran places and when you got tired you walked.  Playing tag or ghosts in the graveyard sure kept us fit not to mention those cool wooden outdoor playgrounds that we played all sorts of games on.  As I age in the sport, I continue to learn and one thing I learned early on is having fun at the sports I do is essential. 
Never forget how to play like a kid in sport and in life. I hope to be at this another 30 years and blogging about my first race as an 80 year old.  Keep living your dream!