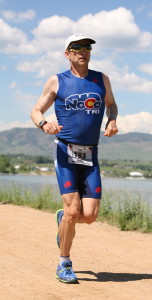 June was a busy month for so many Train Smart Race Fast athletes and the coach even got a chance to lace up the shoes and race a couple of events.  First up was Ironman 70.3 Boulder.  The day started off well carpooling to the race with Troy Tafoya and Martin Paetzold as the dark night skies gradually turned to a beautiful sunrise.  Not a cloud in the sky as we made final race day preparations.  I checked in with a few other athletes that were racing before heading down for a warm up swim.  After that we staged in our swim waves and before you knew it, time to go.  The men's 50-54 wave went off smoothly and people did a good job of seeding themselves properly as I did not have to swim over anyone, or  swam over by anyone as we got under way.  A few of us had some good, clear open water until catching up the wave ahead of us and then it was just navigating around some of the slower swimmers all the way to the swim finish.  Quick exit out of the swim, start peeling off the wetsuit and into T1.  Continuing to move quickly and efficiently, I got the rest of the wetsuit off, helmet and shoes on and headed out for the ride.
The bike could not have went better!  The plan was to monitor the early pace and limit power to 85% of FTP during that first 15 minutes up to Highway 36 then just settle in as the course rolled along up towards Lyons.  Time to start getting the hydration and nutrition going with my INFINIT and with the day projecting to warm up, essential to keep draining the bottles.  Moving through the riders ahead on the course, I neared the 1/2 way point.  I asked Sharon to let me know what place I had come out of the swim.  She was so awesome and made up a big #5 sign.   That was motivating as I had passed a few guys in my age group earlier on the bike, but one rider was always near me as we rolled along the next 30 or so miles, Andre Bekker from South Africa.  We actually chatted a couple times on the bike as we motored along and back into T2 coming off the bike together.  A quick change into running socks, shoes, then grabbed the hat and race belt to head out for the run.  Andre was fast in T2 and put 25-30 seconds into me.  I did not see him on the run for the first mile, but then caught a glimpse of him as we rounded a small corner.  I continued to close ground on him and caught him a the first turn around 3.3 miles into the run.  The next 8 1/2 miles we ran together never more than 10 feet apart until just about the 12 mile mark.  Then he put in a strong surge to open up a gap that I could just not close down.  After the finish we chatted a bit and thanked each other for a great race and pushing each other to our best.   I am very pleased with my 2nd place finish and qualified for the Ironman 70.3 World Championships in Austria on August 30th.  I am really looking forward to the challenge of racing against the top athletes in the world again in my age group.  Last time I got to do that was Kona 2010.
Race stats
Swim 29
Bike 2:20
Run 1:39
What I learned from the race is that, while I may not have had the ideal race lead up in a physical sense due to a rib injury from a fall in March, I was dialed in on the mental side and drew on my 30 years of triathlon experience to manage the days events.  Lots of athletes line up on race day very fit, but lack the mental side to execute.  Find a mantra that works for you.  Visualize your race day in the days, weeks leading up to it.  I know where I can improve, more leg speed as I am sure Andre along with the other top racers will be running quite fast off the bike in Zell am See, Austria in 8 weeks.
That's the condensed version of the day.  If you want more details like pacing, strategy, nutrition, mental, please shoot me an e-mail and I would be happy to share.
Coach Eric