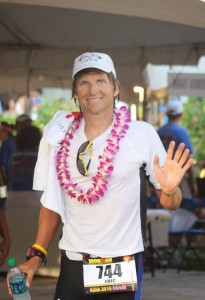 On October 12th, athletes from around the world will be stepping up to race at the IM World Championships in Kona, Hawaii. For some it will be a return to the Big Island of Hawaii, others there first attempt on the course that Julie Moss put on the map back in 1982 (See the video )
But what makes this race and the days leading up to it just a bit different from any other IM? Well there are a number of things but two stick out in my mind, the competition and the course.
Competition - You have the best of the best in 2013 bringing their "A" game ready to challenge their bodies and minds. As athletes start rolling into town (well flying), the energy starts to build. The morning swims down at the pier get more crowded as swimmers start getting used to the ocean conditions and race week there usually is a boat serving coffee about 400M off the pier. Out on the Queen K athletes are putting in their final miles/km doing, tempo work, seeing how the bike handles in gusty cross winds, headwinds, tailwinds and making sure all systems are in working order after being put back together. Along Ali' Drive runners scurry about and make new friends while striking up a conversation at the aid stations put out for training. It is easy to get psyched out as so many fit and fast bodies are zooming all over the place and you feel the urge to push a little hard. Now is not the time for that. Stick to your plan and don't go chasing down some uber cyclist, or keep pace with someone on Ali'i. Save it for race day!
#2 The course itself. Ocean swim...This may seem trivial to some, but can freak others out who have never swam in a body of water where you can see everything and the current or swells are moving your body all over the place. One minute you're headed for the Royal Kona, the next out to sea towards Maui. For 8 years I lived, trained and coached in Kona and was fortunate to race their 3 x with a PR of 10:06 in 2010. I have seen some pretty windy days out on the bike and that combined with the heat and humidity can humble even the most hardened athlete. That is why you have to have a plan to manage not only the race, but particularly the bike segment (50+% of your day) and stick to that plan. Should the winds decide to crank it up aka headwind from Kawaihae or Waikoloa all the way back to town, you must let go of any pre conceived notion of a time you are trying to achieve, otherwise you will bury yourself for the run. Accept the fact that you can be riding in the single digits when going up any of the rollers if Madame Pele is blowing hard. The Run is tough in any IM distance race, but running on a paved road in the middle of a lava field during the second 1/2 of the run will really test your limits both mentally and physically.
Kona is a special place to race no question about it. Whether your racing Kona or doing your first triathlon, Have a plan... Race your race!
Make it a great week of training.
Coach Eric