This past weekend, I had the opportunity to attend the North American Handmade Bicycle Show here in Denver, CO. http://2013.handmadebicycleshow.com/ A fantastic display of bikes that are both functional to ride and creative pieces of beauty to look at.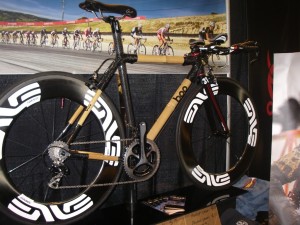 Custom TT Bike with Bamboo.
Local company here in Fort Collins called BOO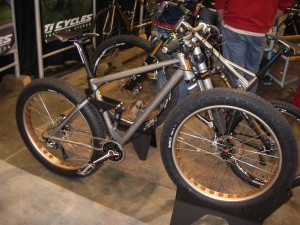 "Lefty" notice only 1 fork, saves weight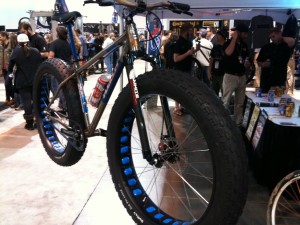 Snow Bike kind of like twin tips skis for powder!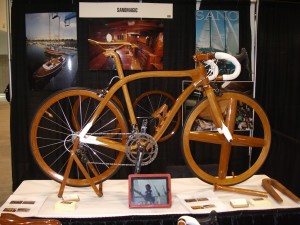 Amazing craftsmanship with wood
The show was a great reminder for me to stay in touch with my own creativity on both a personal and professional level. Relating that to exercise, their are so many things you can do to add variety to your workouts to keep them fun, challenging and still functional. Here are just a few things you can try on one of your next training sessions.
Swimming
Lie on the bottom of the pool and watch swimmers from underneath (blow ring bubbles too!) and a great way to see technique from another view point.
Sculling across the pool feet first
Swim IM in reverse order
Paddles, fins, snorkels, paddles & fins, paddles & snorkel, fins & snorkel, paddles, fins & snorkel
Circle swim clockwise. Just make sure your lane mates are on the same page
Swim in a different lane at practice.
Breathe on your non-dominant side during warm up and cool down
Vertical kicking (both flutter and dolphin) in deep water
Have someone film you swimming
Want to go FASTER? Take a private lesson to work on technique
Biking
Stand out of the saddle for 20 minutes because your core is rock solid
Do a normal training route in the opposite direction (good for runs too!)
1 leg hill repeats
Find an old "retro jersey" for your next ride
Wear funny socks
On a flat to slightly rolling route use only 1 gear. Great for Cadence work
Try a new coffee shop
Bike to work or use bike for errands instead of driving.
When safe & no cars, see how long you can ride right on the white line.
Try the above with no hands
Running
Walk/run backwards for 1 minute ever mile.
Insert drills of your choice in the middle of a run
No watches, GPS, ipod, etc... Just Run!
Fartlek run but instead of random increases in speed, do random exercises: push ups, squats, jumping jacks, skipping, etc...
Try the walk/run backwards uphill. Good quad burner.
Run 8 laps on the track starting in lane 1 and finishing in lane 8, but see if you can hold the same time for each lap. Note: start slowly
Run with people slower than you for your recovery run
Run a new route or find a new off road trail.
So, keep an open mind to new ideas, new people, and keep thinking "outside the box"
Make it a great week,
Coach Eric