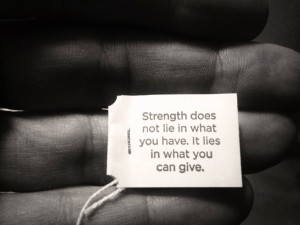 This past weekend I had the opportunity to run a local Halloween 5K here in Fort Collins that the CSU Triathlon team was hosting. The morning weather was crisp, and the skies crystal clear making for a perfect running day with the fall colors in full bloom. This would be a different race experience for me as I would be pushing an athlete for
Athletes in Tandem
. During my life, I have been fortunate to work with all kinds of athletes in the water, on the bike or run and on the ski hill, that have have been challenged in one way or another. But this day was different. My athlete James was counting on me 100% so he could feel the warmth of the sun on his body and the wind in his face as we zoomed around the CSU campus.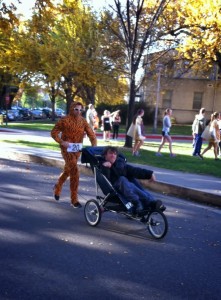 Warming up and learning how to steer properly
We lined up at the start line and once the gun went off settled into a good pace. James was very vocal during the run and when we passed people along the course he was always raising his hands and just genuinely fired up. He is a competitor for sure. A couple of the other Athletes in Tandem athletes passed us during the race and when this happened, he would look up and stare at me for about 5-6 seconds. If I was reading his mind correctly I think he was telling me "could ya move a little bit faster"
The 5K went by very quick and we made it to the finish line along with all the other athletes. *Note even on a cool morning, running in a full tiger costume can get quite warm, but worth every drop of sweat!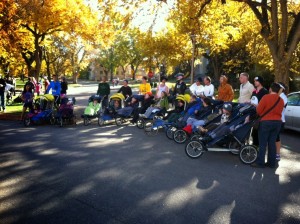 Post race
Sometimes we take for granted all the choices we have for our own health and wellness. Today was a humble reminder that not everyone has those choices. So, I leave you with this challenge to do these 2 things as often as you can.
1. Keep making the most out of everyday as no one is promised tomorrow.
2. Take the time to make someone else's day, just a little bit better.
Make it a great week!
Coach Eric