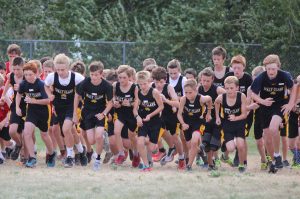 I've had the good fortune over the years to work with kids of all ages and my most recent experience was volunteering at Walk Clark Middle School in Loveland, Colorado with the cross country and track teams for the past 2 years.
Middle school in Colorado is 6th-8th grade. It is SO COOL to see these kids become empowered through sport and watch their self esteem soar to new heights. Some start off with natural talent and running is just an extension of other sports. Others come into the program with little or no running experience, so running 1/4 mile is a long way. I enjoy working with both types of athletes. Pushing those with more experience and nurturing the beginners, so by the end of cross country season they are all running 2.4 miles non-stop...and some are running it pretty fast 🙂
I think I gravitate to the latter group because when I was their age, I was short, a bit chubby and had low self-esteem. Middle school sports were limited, so I was on the JV team in football one year until I broke my arm and then JV basketball all three years. I loved sports, but at the time it seemed like the JV program was an afterthought.
As a result, working with beginner kids and incoming 6th graders my focus is on form, form, and more FORM. Help them better understand how their bodies move, how to balance, how moving more efficiently will minimize injuries and they will run FASTER! All kids want to run faster, so getting them to buy into the little details in these early years will not only help them with their sport, but in many life skills.
You may wonder, how do I get them to buy into the work, buy into the details? Keep the workouts FUN! Every workout should have a component of playfulness and often times I can get a tremendous amount of work out of them but they don't even realize it. I have tried to apply this to my adult athletes as much as possible.
Fast forward 2 years to this year's conference championship track meet. The distance kids from cross country naturally gravitate to the 1600 and 3200 meter events (1 & 2 Mile). They ALL had best times in the events they ran. Three things really stood out for me: 1. Sportsmanship, 2. Proper Pacing 3. Racing with Guts! For those returning next year to middle school, they have some great things to build on. For those moving on to high school, they have a good set of tools in the tool bag and the high school coaches will take them to the next level.
A big THANK YOU to Coach Robert Arrington for allowing me to help out with the kids. They are lucky to have his leadership and in the years to come they will look back on where it all started. Also, thanks to the parents for allowing me to work with their kids during off-season conditioning in the summer and winter months. We had lots of "Fun Runs" working on a variety of skills while healthy lifestyle habits are being formed. I am living the dream!
Keep Running,
Coach Eric