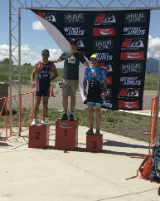 It is always good to get the first race of the season done.  Let's you know how your training has been going so far both good and not so good and often times can be a great motivator for the remaining part of the year.
This year I kicked things off at the Colorado Triathlon at Boulder Rez and hosted by the folks from Without Limits.  I decided this year was a good time to take a break from the longer races so doing the sprint here was a perfect way to start.
THE SWIM - Just going to say it... one of my worst ever in 31 years in terms of how I felt in the water.  Bottom line, I could NOT get enough air and felt like I was gasping for it within 3 minutes after starting.  From talking to a few other athletes and coaches I think I may have it figured out due to the late allergies we have been having here.  Race week was filled with lots of sneezing and runny noses.   I think combining that with the compression of my race kit and wetsuit was enough to create that very uncomfortable feeling of not getting air.  So, I went into damage control on the swim and thought to myself, "what would I tell my clients to do"?  Roll over on your back and do some backstroke.  I did this for a while and it helped a bit, but I was still not feeling 100%.  At one point I even stopped when nobody was behind me and made some adjustments to my wetsuit and tried to calm my breathing down.  I decided to just relax as best I could the remainder of the swim and alternated freestyle and backstroke most of the second half of the swim.  Eventually I was happy to hit the beach and start running up to T1.
THE BIKE- After a quick change it was time to roll.  It took me until Jay Rd for my breathing to finally settle down and I found a good, strong and steady rhythm on the ride. Turning off Hwy 36 onto Neva Rd you can really let things rip all the way down to 63rd. St.  Last year racing on this section of course during IM Boulder 70.3 a couple of cars were not playing nice.  Today, no problems as we flew along.  Quick right turn onto 63rd, back to Diagonal and The Rez.  It was really fun to be riding for less than 45 minutes and roll into T2 knowing it was only a 5K run.
THE RUN - Started off trying to get some leg turnover and after about 1/4 mile found my rhythm.  With an out-and-back course you get to see who is running fast behind you and shortly after the turn I noticed a couple guys that were moving quicker than I was.  So the goal was not to let them catch me.  Good intentions here but with about 200 yards to go, sure enough I got passed by these two.  I glanced down and one of them had a "51" on his calf.... CRAP... I had to dig even deeper.  I picked up my turnover and got in behind them for about 10 seconds.  The last right turn into the finish was up ahead about 30 yards and I told myself go now...beat those guys into the corner.  I was able to get around them both just before the corner and did not look back as we made our way to the finish line.  I was able to hang on and stay ahead of both of them by a couple of seconds.  After catching my breath I congratulated them both and thanked them for the push.  Come to find out as results were posted that we were racing for 1st and 2nd in the 50-54 age group without knowing it at the time!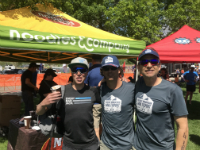 POST RACE - I had a chance to catch up with some friends I coach at FAST Masters, and some other athletes I have gotten to know over the past 5 years and we discussed our day out on the course.  A couple things I was reminded of:
1.  If you are not having a good swim, try not to panic and find a way to get yourself settled down.
2. Never give up & always give your best for the day!
Big thanks to Patrick Ray at Rocky Mountain Multisport for keeping my bike dialed in, Vasa Inc for turning me on to the Vasa Ergometer  (my swimming secret weapon)
and all the competitors who raced on a beautiful Colorado morning.